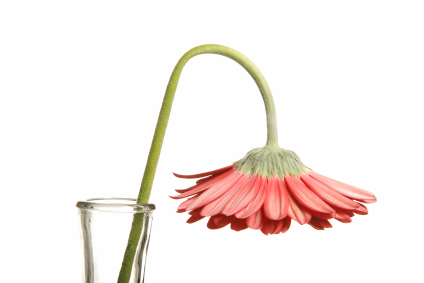 It is December 2013, half way through our GCSE English Language mock exam, and something is wrong. First at the front, but then to the sides of the sports hall, students begin to slowly wilt.
Their hands slowly slip forward on the exam desk. Their shoulders slightly droop. Their heads hang, woefully slack, wearing leaden expressions. And then – with a barely audible sigh - their exam papers close… and not even my best 'meaningful stares' will see them opened again.
OK, so I dramatise, but one of the important 'stories' that came out of our exam analysis from last year was a clear group of Year 11 students who had simply 'given up' in that exam. They had been beaten by the relentless two hours and fifteen minutes that is AQA's ENG1 slog. Not because they lacked ability – in nearly all cases teachers felt they were academically capable of their aspirational GCSE target – but because they did not have the *thing* that keeps us working right up to the invigilator's final cry. Namely: confidence, aspiration and a feeling of self-worth.
On closer investigation these were identified as the 'set 4' students. In our larger than average comp we set students at GCSE into five numerical ability groups on each side of the year group, with two set 3s running broadly as our traditional 'C grade groups'.
Set 4 in this year group predominantly contained students with D grade GCSE targets. As a result, for the most part they'd been overlooked by our raft of interventions, had seen their more able counterparts 'moved up' into set 3, and, crucially, they'd understood throughout the GCSE course that they were 'set 4 of 5': not the least able, but not much point in trying all the same.
With the heart-wrenching image of the 'wilted ones' firmly in my mind, it became clear: 'set 4' must die.
Whilst pondering how I could make this happen through my usual comfort blanket of the shiny graph*, I was also pondering a second conundrum: setting. Bringing to a head a year of trad/prog debate, at 2.11pm on Wednesday 3rd June The Guardian had reported that Gove 2.0, Nicky Morgan, was
likely to insist on setting for all
. By 7.52pm this would be
a claim she would strenuously deny
but for many pro-setters this was to be a rallying cry. Within my own school, and indeed within my Faculty, there were many voices clammering for the introduction of setting at Key Stage 3, something my own pedagogical biases instantly had me baulking at.
So, what to do. Well, with a few words of encouragement from my Head and admittedly in part as a stalling tactic, I decided to go on a fact-finding mission to two of the highest achieving schools in our LA 'benchmark group'.
It should be noted at this point that we simply don't do this enough. Just pick up the phone and visit each other. The two HoF I approached welcomed me with open arms and their pride and professionalism reminded me once more that we truly are in this together, regardless of the competition so many toxic educational changes try to foster.
But, did this help? Er, no. Whilst one school used wholly mixed ability groups throughout KS3 and 4, the other rigidly set in year group. So, where did they leave us?
Right back where we started: with the 'wilting ones'. What those visits gave me the confidence to do was consider what was right for those students. For our students.
It seemed clear that our 'set 4' students needed to feel a sense of aspiration that would only be created if they were alongside other students gaining higher grades. They needed to be in a group with students in set 3, even set 2. And, crucially, they needed to not be called blinking 'set 4'! Why not do as form groups do and name the classes after their teachers? After all, aren't we quick to call them 'our' kids? Let them see our pride in them and let us celebrate that sense of responsibility.
But, I was quick to be reminded, what about our most able students? And our students for whom securing a GCSE passing grade would be our raison d'etre? Again, driven by the needs of our students, as Faculty, we agreed that there were students in these broad groups for whom a true mixed ability model would not best serve them. But never, we concurred, must these choices be driven by behaviour only need.
Thus was borne a new model of grouping: 10HT JHU; 10HT CSPA; 10HT ABL; 10HT SFR… With a bit of knowledge about our Faculty you might be able to identify the teacher, but I challenge you, spot if you can find the 'set 4' student in that lot.
And the acid test? Last year, creative writing controlled assessment marks on average were 6/6/5, a high D grade. This year, 6/6/7, a secure C grade.
The true test? A lovely Year 10 student's horrified reaction when I praised him for meeting his D grade target.
*shiny graph